PASTOR DARIEN K. BOLDEN, SR.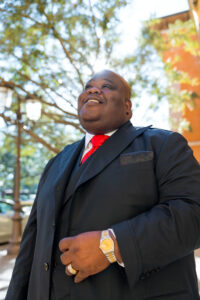 Rev. Dr. Darien K. Bolden Sr., a native of Jacksonville, Florida. He is the 12th
child of 12 children born to the late Samuel and Corlean Bolden. He is the
Pastor of the Historic First Missionary Baptist Church of Fernandina Beach,
Florida.
Rev. Bolden attended the local schools of Duval County, and graduated from
Andrew Jackson Senior High School.
To further his education, he attended
Florida Community College of Jacksonville, and Florida Theological Seminary,
Lakeland, Florida, graduating with the Class of '2000'. He received an
Honorary Doctorate Degree in May of 2011 from the Florida Theological
Seminary. Pastor Bolden received his Master Of Divinity on July 20, 2014 from
the Florida Theological Seminary and Bible College
Other Affiliations Include:
* 3rd Vice President – Florida General Baptist Convention
*Past President – Moderators' Auxiliary of Florida General Baptist Convention
* President – Baptist Ministers Conference of Duval and adjacent
*Past Moderator -Union St. James Baptist Association
*Board Member – Florida General Baptist Convention
-Florida Progressive Theological Seminar
-Florida Theological Seminary
Jacksonville Urban League
Member- NAACP – Nassau County Branch
-International Longshoreman's Association
-Southern Christian Leadership